FOB – Free on Board … (Port of Shipment)
Characteristics
By using FOB the seller clear the goods for exports and delivers when the goods have passed the ship's rail at the agreed port. This term is only used for water transportation either sea or inland water. If both parties do not agree to have goods delivered on board, then FCA is the term to be used. This term was commonly used when commodities were sold and carrier confirmed the reception of goods "on board". When goods are packed in contenerized cargo, then FCA is the most recommended term to use. Because goods will be delivered in the container terminal prior to be loaded on the vessel. The term is used in commodities like oil, bulk cargo or grain. There is a common misuse of this term when goods are loaded on a truck, in that case FCA is the right term to use. In FOB, origin terminal handling charge and all other cost associated to move the goods on board are paid by the seller.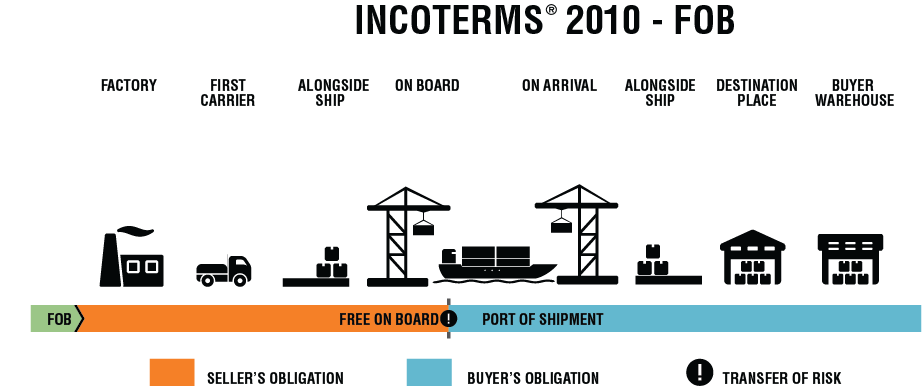 Source: internationalcommercialterms.guru
Explained
FOB suits better for bulk cargo and not containerized cargo (use FCA instead). FOB can only be used for ocean transportation, seller's responsibility ends when goods are placed on board of vessel. All cost after loaded on board must be assumed by buyer. Export customs clearance and origin terminal handling charge must be assumed by seller. This term is traditionally created for bulk transportation, where some cargo can be lost during the process of loading (i.e. grains taken away by wind or boxes dropped of in the ocean). It is still the most misused term.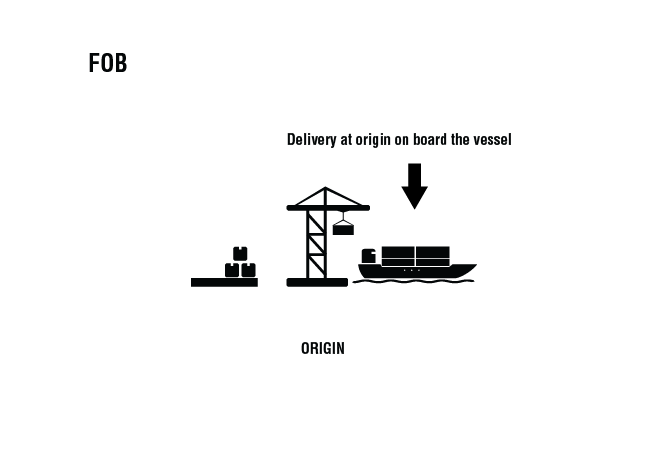 Examples
Buying bulk corn:
FOB Valparaiso port, Chile
Buying bulk potatoes:
FOB Port of Cape Town

Seller and Buyer obligations
| A. THE SELLER'S OBLIGATIONS  | B. THE BUYER'S OBLIGATIONS  |
| --- | --- |
| 1. Provision of goods The seller must deliver the goods, provide commercial invoice or an equivalent electronic document, provide evidence of conformity or proof of delivery | 1. Payment The buyer must pay the price of goods as agreed in the contract of sale |
| 2. Licences, authorisations and formalities The seller must provide export licenses or local authorisations for exporting goods | 2. Licences, authorisations and formalities The buyer must get any export license and import permit for the export of goods |
| 3. Contracts of carriage and insurance Contract of carriage on standard industry terms at buyers risk Contract of insurance without obligation | 3. Contracts of carriage and insurance Contract of carriage at buyers expense at port of origin until final destination Contract of insurance without obligation |
| 4. Delivery The seller must deliver the goods on board on the vessel nominated by the buyer | 4. Taking delivery Take ownership of the goods after loaded into the vessel |
| 5. Transfer of risks The seller is responsible until goods are in place as in the agreed time | 5. Transfer of risks The buyer must assume all risk of loss of damage from the time the goods have been delivered on agreed vessel. If the vessel is delayed or doesn't show, buyer must pay for additional expenses |
| 6. Costs The seller must pay all cost until the cargo has passed the ship's rail, including customs, duties and taxes and other port related charges including export customs inspection as per local regulations documentation | 6. Costs The buyer pays from the time the goods passed the ship's rail, carriage, insurance and import duties and taxes to final destination |
| 7. Notice to the buyer The seller must provide notice of the goods delivered on board at sellers expense | 7. Notice to the seller The buyer must give notice of goods loaded on named vessel at loading point as per agreement |
| 8. Proof of delivery, transport document or equivalent electronic message The seller must deliver at buyer's expense the proof of delivery on board the ship at the named port of shipment. The seller must assist in obtaining a transport document. EDI communication as proof of delivery is acceptable | 8. Proof of delivery, transport document or equivalent electronic message The buyer must receive the proof of delivery (usually a transportation document like bill of lading or sea way bill of lading) |
| 9. Checking – packaging – marking The seller must bear the cost of checking, quality control, measuring, weighing, counting, packing of goods and marking. If special package is required, the buyer must inform and the seller and agreed on extra expenses | 9. Inspection Unless it's a mandatory at origin, pay any pre-shipment inspection |
| 10. Other The seller must timely provide assistance in securing information and documentation required for transportation and final delivery | 10. Other The buyer must pay all costs and charges incurred in obtaining the documents or equivalent electronic messages |