FCA – Free Carrier … (Place at Origin)
Characteristics
FCA is the first of F terms and means that the seller delivers the goods cleared for export to the nominated carrier at the named place. The buyer must nominate the carrier.
If the place of delivery is at the sellers premises, seller must load the goods. If delivery takes place in a different place, the seller is not responsible for unloading.
The term carrier refers to any party who is in charge of the contract of carriage and will transport the goods by any mode of transportation.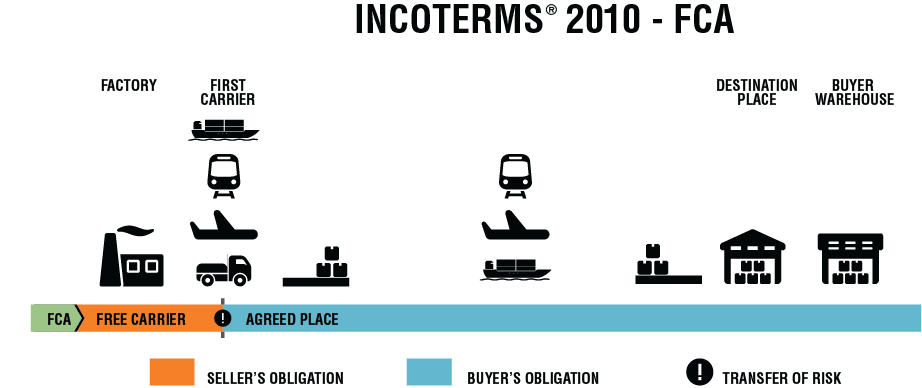 Source: internationalcommercialterms.guru
Explained
At sellers facility (shipper must load cargo into container):
FCA ABB – 1133 South Cavalier Drive, Alamo USA
At forwarders facility (buyer pays for unloading cost):
FCA Panalpina World Transport
6/F AZIA Center, 1233 Lujiazui, Ring Road
Pudong New Area, Shanghai 200120, China
At airport:
FCA KLM – Menzies World BV, Brandenburgbaan 2b, 3045 AK Rotterdam
There can be 3 types of places of receipt when using FCA, sellers facility, freight forwarders facility or port/airport. Seller must load goods into transport vehicle only when place of receipt is sellers facility. In all cases, seller must clear customs for exports and freight and international transport arrangements must be performed by buyer. FCA can be used for any mode of transportation.
FCA is one of the most favourable term when buyer wants to have control of costs at origin and international transportation through a nominated freight forwarder. FCA is commonly used in conjunction with a Forwarders Cargo Receipt (FCR), a document that proves that cargo has been received by a forwarder with the intention to be transported as per buyers conditions. FCR is a proof of delivery and can be used for document compliance instead of Bill of Lading
FCA requires that buyers pays for origin terminal handling charge when cargo is containerize. A "carrier" means any company that has been nominated by the buyer to act as transport agent, meaning that a freight forwarder qualifies as carrier in this case.
It is recommended to use FCA instead of FOB for containerized cargo. In case of FCL, container can be placed at sellers facility. If cargo will be transported as LCL, most cases it is required that seller deliver goods into a nominated warehouse for consolidation.

Examples
Seller and Buyer obligations
| THE SELLER'S OBLIGATIONS  | THE BUYER'S OBLIGATIONS  |
| --- | --- |
| 1. Provision of goods The seller must: deliver the goods provide commercial invoice or an equivalent electronic document provide evidence of conformity or proof of delivery | 1. Payment The buyer must : pay the price of goods as agreed in the contract of sale |
| 2. Licences, authorisations and formalitiesThe seller must provide export licenses or local authorizations for exporting goods | 2. Licences, authorisations and formalitiesThe buyer must get any export license and import permit for the export of goods |
| 3. Contracts of carriage and insuranceContract of carriage without obligation Contract of insurance without obligation | 3. Contracts of carriage and insuranceContract of carriage without obligation Contract of insurance without obligation |
| 4. Delivery The seller must deliver the goods to the carrier or any party nominated by the buyer at the named place of delivery and within the date agreed. If delivery place is Seller's premises, then seller must load the goods Other place, then buyer must load the goods If there is not agreed place, then the seller can determine the best location | 4. Taking delivery The buyer must take delivery of the goods when they are delivered. |
| 5. Transfer of risks The seller is responsible until goods are in place as in the agreed time | 5. Transfer of risks The buyer bear risk and loss or damaged goods from the time goods are in place until the expiry date |
| 6. Costs The seller pays all cost until goods are in place for pick up including customs clearance at origin | 6. Costs The buyer must pay transportation and additional cost from goods delivery |
| 7. Notice to the buyer The seller must inform the buyer when goods will be ready to pick up | 7. Notice to the seller Assuming that seller has informed the buyer about goods ready to be picked up. The buyer must collect goods within the agreed time |
| 8. Proof of delivery, transport document or equivalent electronic message The seller must provide the buyer a proof of delivery of goods at buyers expense. The seller must assist with all export documentation and arrangement of transportation by designated carrier | 8. Proof of delivery, transport document or equivalent electronic message The buyer must accept the proof of delivery |
| 9. Checking – packaging – marking The seller must bear the cost of checking, quality control, measuring, weighing, counting, packing of goods and marking. If special package is required, the buyer must inform and the seller and agreed on extra expenses | 9. Inspection The buyer must pay the costs of any pre-shipment inspection except when such inspection is mandated by the authorities of the country of export. |
| 10. Other The seller must timely provide assistance in securing information and documentation required for transportation and final delivery | 10. Other The buyer must pay all costs and charges incurred in obtaining the documents or equivalent electronic messages |