EXW – Ex Works … (named place)
Characteristics
Ex works terms makes the seller responsible to place the goods at disposal of the buyer at seller's facilities or any other named place. EXW terms do not obligate the seller to clear exports or load goods into the collecting vehicle. With this term, the seller has minimum obligation and buyer must bear all costs and risk involved on pick up and transportation of goods from seller's premises. This term can have one variation that mentions explicit that seller must clear customs or load goods into the vehicle and it's similar to FCA term.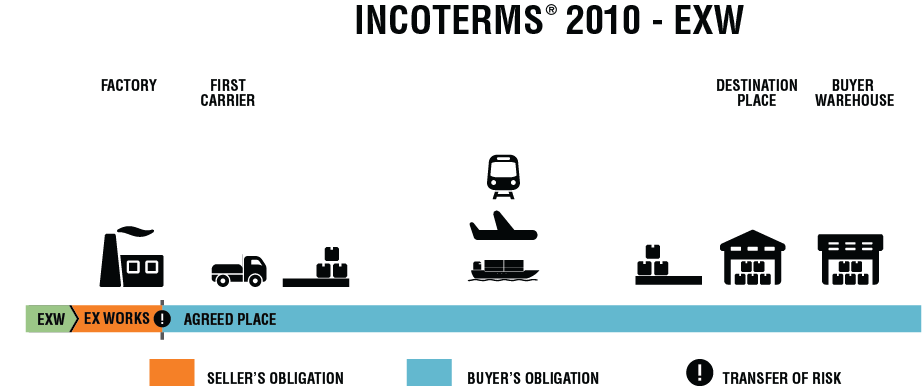 Source: internationalcommercialterms.guru
Explained
EXW represents the minimum obligation to the seller and seller's obligations end when goods are placed at disposal to buyer. Usually, EXW is used when seller does not want to be responsible for movement of goods to other warehouses or ports. Depending on local practice, seller can load goods into transport vehicle if agreed by mutual parties. Other cases, where buyer wants to avoid additional loading fees, buyer arranges the loading with their own equipment or manually (i.e. loading of goods by hand). If buyer is not able to clear customs on origin, it is recommended to use FCA Place of Receipt.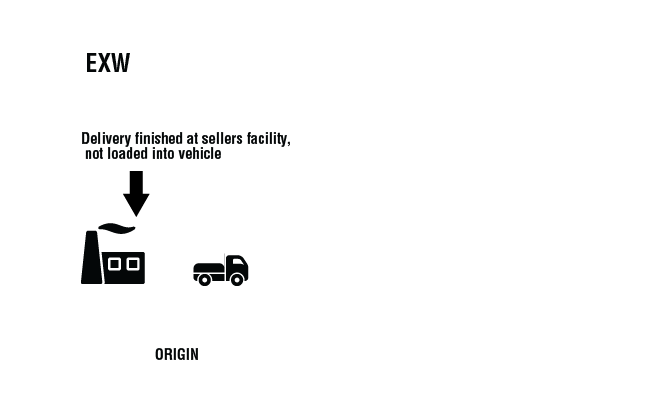 Examples¶
Buying fruits in Costa Rica: EXW Finca La Fortuna, Heredia, Costa Rica Buying goods at free trade zone: EXW Shanghai Free Trade Zone, Sony Warehouse, China
Seller and Buyer obligations¶
This is the term with less risk for the seller. Goods are delivered at the agreed place and there is no obligation for the seller to load goods into the vehicle. However, it is common practice to agree on loading at buyer's expense and risk. Seller must provide and collaborate with all documentation for export and insurance.
| THE SELLER'S OBLIGATIONS  | THE BUYER'S OBLIGATIONS  |
| --- | --- |
| 1. Provision of goods  The seller must deliver the goods, provide commercial invoice or an equivalent electronic document, provide evidence of conformity or proof of delivery | 1. Payment of the price  The buyer must pay the price of goods as agreed in the contract of sale |
| 2. Licences, authorisations and formalities  The seller must provide export licenses or local authorisations for exporting goods | 2. Licences, authorisations and formalities  The buyer must get any export license and import permit for the export of goods |
| 3. Contracts of carriage and insurance  Contract of carriage: no obligation Contract of insurance: no obligation | 3. Contracts of carriage and insurance  Contract of carriage: no obligation Contract of insurance: no obligation |
| 4. Delivery  The seller must place the goods at the named place of delivery. The seller has no obligation to load the goods on any collecting vehicle. The seller must deliver the goods within the period and time agreed.It is good practice to name the location, otherwise the seller can select the best point available | 4. Taking delivery  The buyer must take delivery of the goods when they are delivered.In some cases, it is common practice to agreed having the shipper to load goods into the collecting vehicle at buyers expense and risk |
| 5. Transfer of risks  The seller is responsible until goods are in place as in the agreed time | 5. Transfer of risk  The buyer bear risk and loss or damaged goods from the time goods are in place until the expiry date |
| 6. Division of costs  The seller pays all cost until goods are in place for pick up | 6. Division of costs  The buyer must pay transportation and additional cost from goods delivery which includes customs formalities at origin |
| 7. Notice to the buyer  The seller must inform the buyer when goods will be ready to pick up | 7. Notice to the seller  Assuming that seller has informed the buyer about goods ready to be picked up. The buyer must collect goods within the agreed time |
| 8. Proof of delivery, transport document or equivalent electronic message  No obligation | 8. Proof of delivery, transport document or equivalent electronic message  The buyer must provide the seller with appropriate evidence of having taken delivery. |
| 9. Checking  The seller must bear the cost of checking, quality control, measuring, weighing, counting, packing of goods and marking. If special package is required, the buyer must inform and the seller and agreed on extra expenses | 9. Inspection of goods  The buyer must bear the cost of pre-shipment and exports inspection except when is mandatory by the government |
| 10. Other obligations  The seller must cooperate with all documentation for export and insurance | 10. Other obligations  The buyer must pay for all export documentation and insurance |